MO – FR Lunch, SA – SO Breakfast
MO – FR from 12:00
SA – SO from 10:00
MO – FR Lunch, SA – SO Breakfast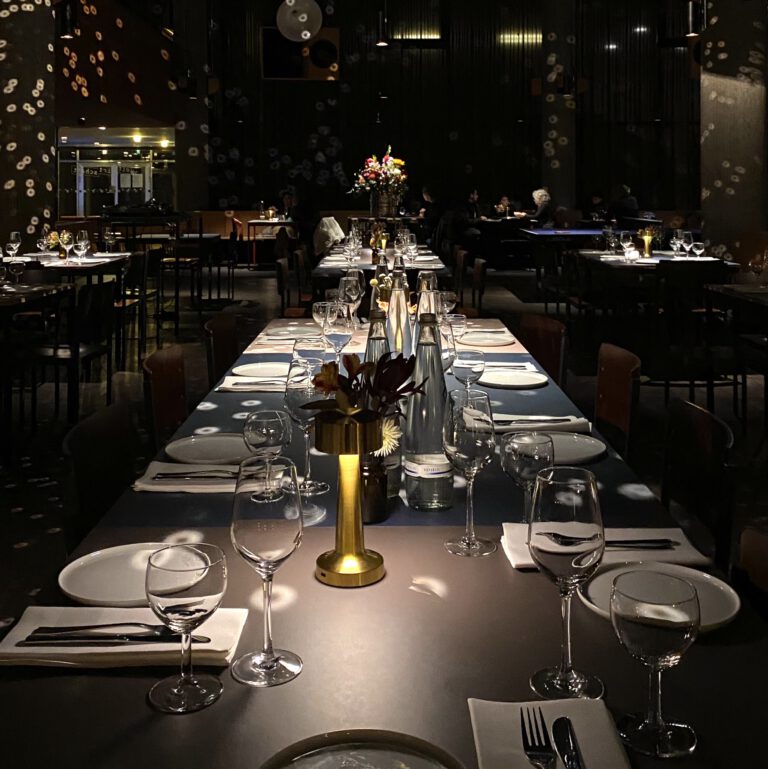 About 3 years ago the Weltwirtschaft opened in the heart of Berlin. Since then we welcome our guests 7 days a week on weekdays from 12:00 and on weekends already at 10:00! Whether for lunch during the week or an extensive breakfast on the weekend, the Spreeblick is always included! From 16:00 starts our evening menu with a selection of seasonal cuisine from around the world. Lots of veggies, lots of vegan, but also fish & meat like our classic: The Wiener Schnitzel with lukewarm potato-cucumber salad. Also a city classic: Our soon to be famous original Italian stone oven pizza. For this reason, our pizza oven runs all day long.
From the smallest table reservations like Valentine's dates to large tables for birthdays or Christmas dinners, we have plenty of room. So grab your family, friends or colleagues and reserve a long table under our disco ball! 
By the way: From summer on we enrich our kitchen team with regularly changing guest chefs. 
Our restaurant stands for modern dining culture. International, authentic world cuisine with Mediterranean influences. For this we have regularly changing award-winning chefs from partly remote fine dining kitchens as our guests. They are hosted by our chef Robert Büsser and together with our kitchen team they set the culinary scene! The selection of guest chefs is made in collaboration with the House of World Cultures. At opening events, the exhibition framework will be accompanied by our kitchen. Starting in June, this means nomadic Fulani cuisine. Presented by Chef Fatmata Binta. Look forward to the experience of a largely unknown food culture of one of the last great pastoral peoples of West Africa.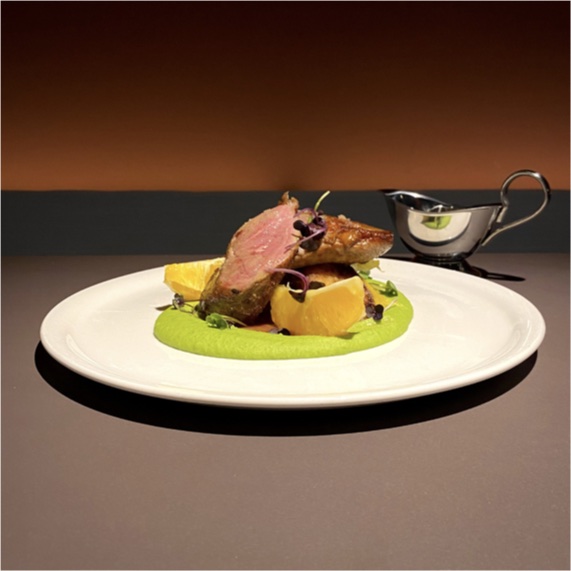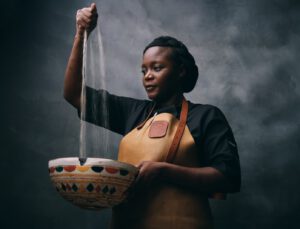 Winner of the "Basque Nobel Culinary World Prize" 2022
Winner of the "Best Chef Rising Star Award" 2021
Founder and CEO of the Fulani Kitchen Foundation
This award-winning chef, born and raised in Freetown, Sierra Leone, is part of the Sierra Leonean Fulani people of first generation Guinean descent. She is a modern nomadic chef who is very closely associated with the culture, customs and cuisine of the Fulani – the largest nomadic group in West and Central Africa.

She grew up in a Fulani community. Like her ancestors, Chef Binta has traveled to many countries, in her case to explore different cooking techniques, ingredients and ways of life. At Dining on a Mat, Chef Binta combines her nomadic Fulani roots, classical training and love of rural life and nature to create modern dishes while preserving the simplicity and authenticity of Fulani culture.

By recreating a traditional setting, discussing Fulani culture and serving ancient grains, indigenous spices and other exciting West African ingredients, Chef Binta engages all the senses and transports you to a new world. Her passion for sharing nomadic African cuisine is based on her experiences as a child growing up during the darkest time in Sierra Leonean history – the civil war.
She experienced firsthand how food can bring people together and tear down walls.

Often during the conflict, no one could buy food. Food was simply not available. What it taught her: Learning to create and share entirely new dishes with just a handful of ingredients. Creating wasn't just a life-saving skill in a war zone, it actually made her the chef she is today.

Chef Binta presents herself as an ambassador for Fulani cuisine, promoting Fonio, an ancient super grain traditionally grown in West Africa. In recent years, fonio has gained more attention in international culinary circles because of its similarity to quinoa. And rightfully so – it's gluten-free, extremely nutritious, requires little water to grow, has a shorter life cycle than its similar foods, is more resistant to disease and drought, and returns more nutrients to the soil than other staples like rice and corn.

This small grain could potentially be one of the answers to the coming challenges of food security and climate change.
You are more than 20 people and do not claim any of our areas exclusively? Contact us and we will coordinate all important points for your reservation request accordingly.
Important: From a group size of 20 people, the choice of food in particular must be coordinated – if it is more of a casual group, we like to start, for example, our antipasti in the middle, then everyone chooses the main course.
If the setting is more formal, we also like to serve a menu classically in several courses. Further extras such as a Cremant reception for toasting, a whole birthday cake for dessert, lavish bouquets of flowers, balloons filled to the brim, ice tubs with drinks for your guests or, if you prefer, your own bar, you are welcome to let us know in advance. For your inquiries please use our form under reservations.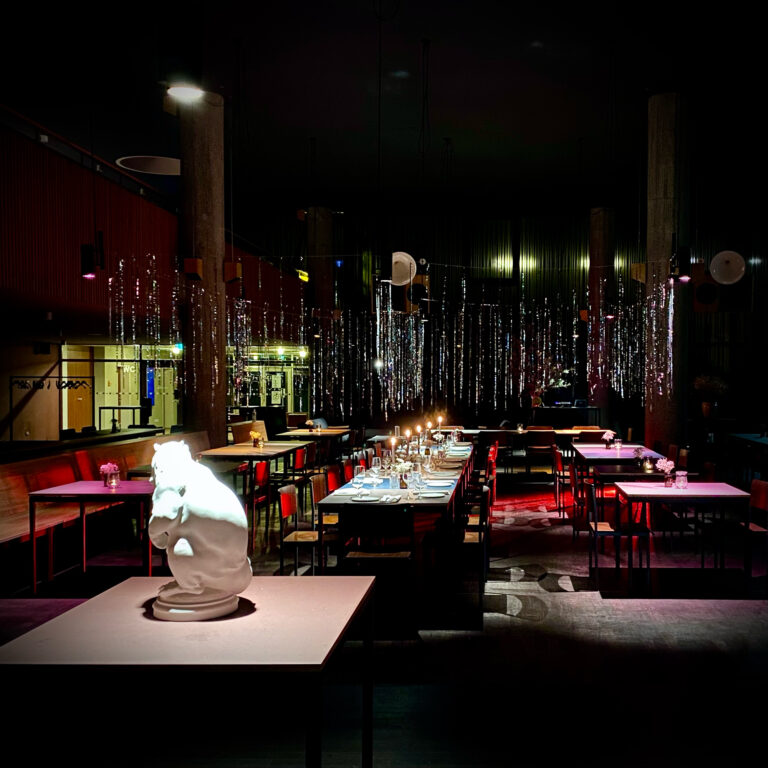 <!=========Events list Template 1.6.2=========>
November 2023
December 2023